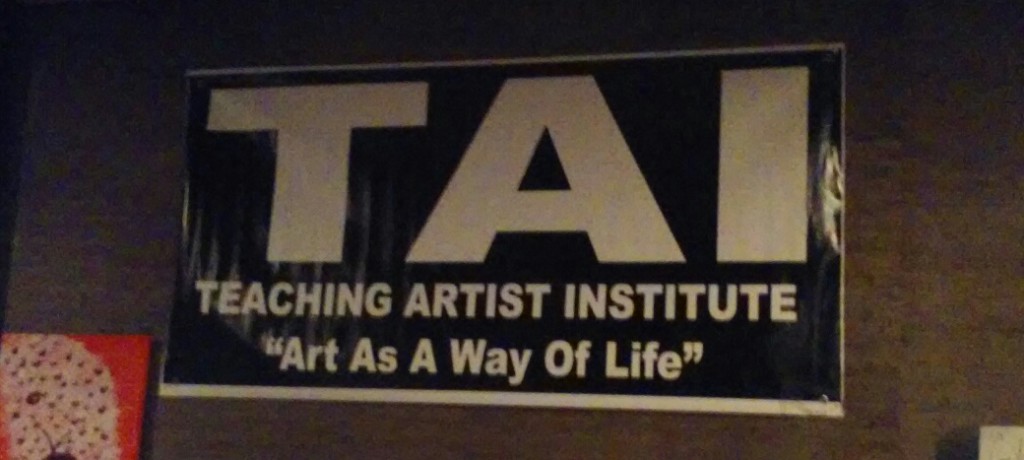 In December 2015, Sis. Kim Poole, a self-described Soul-Fusion Teaching Artist from Baltimore (Tubman City), Maryland, founded the Teaching Artist Institute. Sis. Kim had traveled to Afrika and other parts of the world several times over the last few years, and sought to create a vehicle through which musicians, visual artists, performance artists and artisans could not only develop their craft and advance their careers, but could also use their art to help heal their respective communities. Thus the Teaching Artist Institute, or TAI, was born. The overarching goal, as stated by Sis. Kim and in the organization's literature, is Art for Social Transformation. The global campaign is The Rhythm People, a recognition of the degree to which the rhythm of the Afrikan Drum has empowered and energized Afrikan and other Indigenous communities around the world. The world community where TAI has established organizations, from Nigeria and Ghana to Los Angeles and Washington, DC, from the Caribbean to Canada, from South Africa to Hawai'i, everywhere one may find the Rhythm People, is referred to as TAI LAND.
TAI Tours is the vehicle through which TAI Fellows travel to different areas of the world to advance TAI's mission. The TAI Tour for March is to Ghana, from March 3-March 12.
In support of that mission, TAI Tours hosted the first annual Ghana Sendoff Event to announce the Ghana TAI Tour to the community. The event was held on Tuesday, February 28 at Tabba-Tabba Coffeehouse, 5308 Edmondson Avenue in Catonsville, just west of Baltimore, Maryland.
Among the ranks of the TAI Fellows participating this year are Aliya Brown Mitchell (Baltimore, Maryland), Kelly Hoff Jr. (Baltimore, Maryland), Diarra Clarke (Pittsburgh, Pennsylvania), Olakunle Aderehinwo (Nigeria), Amodou Ikoyte (Nigeria), and Marayo Nduka (Nigeria). Sis. Aliya Brown Mitchell gave a brief spoken-word performance and Bro. Kelly Hoff Jr. spoke at the TAI Sendoff event (see below).
The TAI Tour to Ghana is entitled "Independence", in honor of the first Afrikan nation to declare its independence from colonialism in 1957. Key organizational partners on the ground in Ghana include the Musicians Association of Ghana (Musiga), the African American Association of Ghana and Ghana's National Film and Television Institute (NAFTI). See the related article on Artizen 2017 on this website.
With support from entities such as the US Embassy, the African Union's Economic Social and Cultural Council (ECOSOCC), Jah Kente International, Financial Unity, African Artists for Peace, the Sixth Region Diaspora Caucus and others, the Teaching Artist Institute is demonstrating its capacity to engage in cross-cultural communication on a systemic level.
THE TAI TOUR GHANA SENDOFF EVENT
Bro. Niko, a Teaching Artist Fellow from Baltimore, Maryland, opened the February 28 TAI Tours Ghana Sendoff event with a soulful saxophone solo.
Soul Fusion Teaching Artist and the Founder of the Teaching Artist Institute, Sis. Kim Poole, then made her introductory remarks.
"I want to thank you for coming out on a rainy Tuesday in the middle of the week, from DC, from Pennsylvania, just all over the East Coast, coming here in support of our mission [at the] Teaching Artist Institute. As you know, this is our sophomore year, and we've come together tonight to celebrate our first Tour to Ghana.
"We have Teaching Artists in different areas of the world — in Nigeria where we started, in Ghana, our largest chapter, and right here in Baltimore. The first thing people ask me when I go to another place, is 'where are you from?' And to me, your vision will never make sense unless you work in your home town. And so we will always have Teaching Artist Fellows who we nurture to develop interdisciplinary projects that merge their art form with another area of development in social transformation. And so, of the eight Fellows that are coming with us, from all across TAI LAND, we have two Fellows here tonight in the DMV [Washington, DC-Maryland-Virginia area] that will be joining us. …
"We have Aliya Brown Mitchell here tonight, better known as Naima Vanity, and we'll hear a little bit from her. … as well as DJ Kelly Calculations on the ones and twos. … We won't get to hear him express his particular art (DJing) here tonight, but he will say a few words. … This Brother does a lot of work in organizing politically right here in the City of Baltimore with the Ujima Peoples Progress Party. … Of course we have some of our TAI Founding Fellows here in the audience, like Ms. Christina Cook, and she's here with Negus Cre8. …
"This is a fund raiser, but what it is mostly is community outreach and awareness. …
"You may never be able to come with us on a TAI Tour, but we want to give you a taste of the region. We want you to know what the food is like in Ghana. So we have Suma's from DC to come and sponsor the food and the akwaaba that you feel when you come to Ghana. We want you to feel that here tonight … to know that there is Ghana right here in this city, especially for you, Rhythm People. Ghana is in you. Where you are, Ghana will be there."
SIS. NAIMA VANITY PERFORMS TWO SPOKEN WORD SELECTIONS
Sis. Aliya Brown Mitchell, also known as Sis. Naima Vanity, performed two spoken word pieces that combined singing with hip hop-style rapping and fast-paced spoken wordsmithing. Covering issues such as respect between a man and a woman, social awareness and consciousness and community responsibility, she led a call-and-response refrain based on the mantra "I Am My Brother's/Sister's Keeper".
BRO. KELLY HOFF, AKA DJ KELLY CALCULATION
Bro. Kelly Hoff Jr. is a Baltimore-based community activist (a member of the Ujima People's Progress Party, or UPP) and an accomplished Disc Jockey. He spoke of his motivation for joining the Teaching Artist Institute and becoming a part of the TAI Tour to Ghana.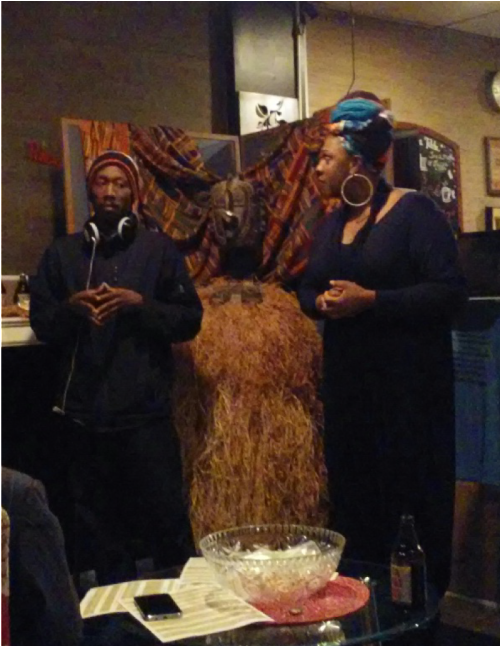 "Part of my political aspiration is to help the Ujima Peoples Progress Party become the first Black independent political organization in the state of Maryland and in the country. As you know, Baltimore and Maryland have always been Democratic … but we notice nothing has changed. And one of the things we are going to do is get certain people to be City Council members, Mayors or Governors to change the system. And with the Teaching Artist Institute, I decided that I have a problem with our kids being left behind when it comes to STEAM: Science, Technology, Engineering, Arts and Mathematics. And the sad thing about it is, if you have a program, an app on your phone, if you want to program a computer, most of the software you need is free. So there's absolutely no reason for our kids to be left behind, except we're not taking that step to get them the resources that they need.
"One of the reasons I'm excited about this trip to Ghana is, I make 3-D printers. For those that don't know, a 3-D printer is just like a regular printer, but instead of printing words on a page, you print objects. You can melt plastic down and turn it into a game [such as the Connect-4 game that was on a nearby table]. So when you see all the litter and things in the street, they are resources that are not being used properly.
"Earlier last year I was able to speak to some folks in Ghana who were actually taking old electronics and making 3-D printers out of them. How can someone in a world that's supposed to be 'Third World' be building something out of nothing? And so I decided that that is something I wanted to do, and I've been in contact with them. They actually gave me some blueprints. And so, with this trip I'm going to go over there, meet with them face to face and the next phase would be to help open up a computer lab where artists can come; if you want to be a DJ, if you want to be a graphic designer, if you want to be a photographer, these are all things that we will be able to allow folks to do with just one computer. And so, that's why it's important for me, not only to go to Ghana to show that this can be done across the world, [but] we can also bring that back to Baltimore so we can showcase to the kids that if you want to be anything in this world, everything you need is right in front of you."
SIS. CHRISTINA COOK OF NEGUS CRE8
Sis. Kim Poole introduced TAI Fellow Sis. Christina Cook, founder of Negus Cre8: "In a lot of ways, Christina grounds me. She teaches me to slow down and be methodical." Sis. Christina gained inspiration from her daughter, who she says was singing even before she was talking. "We come from families of creators." She is the creative force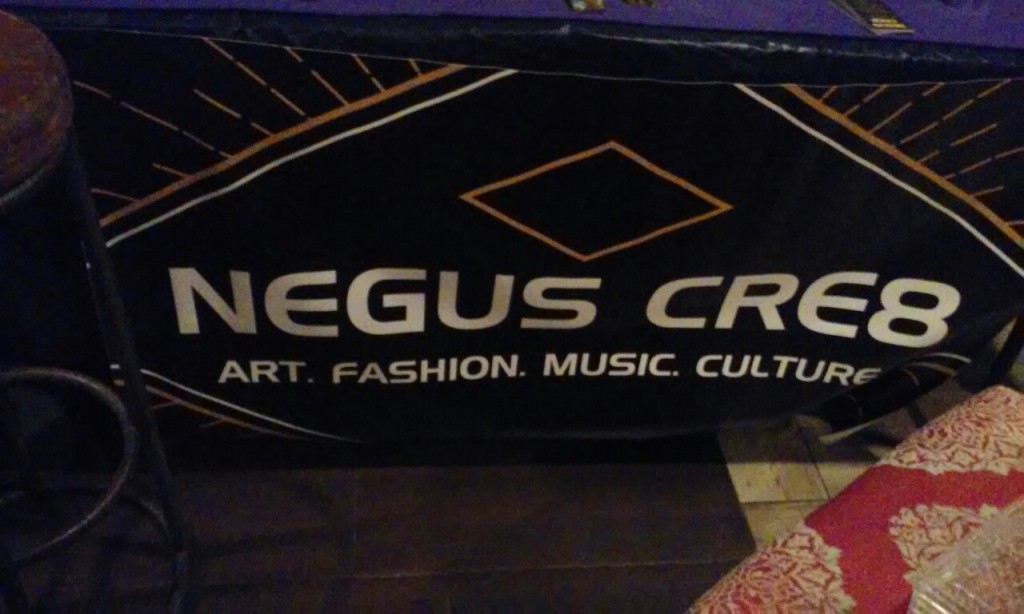 behind Negus Cre8, making articles of jewelry, decorative objects and artistic paintings (available on Facebook at NEGUS CRE8, on Instagram at @negusthecreator, and by email at neguscre8@gmail.com). She also developed Rhythm Key.
"Rhythm Key is a music and movement workshop where we use music expression like drum circles, djembes, qi gong, expressive art, martial arts, to create non verbal communication [this was inspired by a fellow artist who is on the Autism Spectrum]. Spoken language is fairly new when it comes to human communication. We're the Rhythm People, right? So, before spoken linguistics, how were we communicating with each other? I think it was that drum. All of us were drummers, because the original drumbeat was that mother's heartbeat in the womb. Rhythm Key is a way to get around the fact that some of us can talk, some of us have speech disorders and some of us don't, and that's okay. Because we can still have a conversation, no matter what our differences or challenges are."
SIS. KIM POOLE INTRODUCES TAI ELDER RUFUS T. STEVENSON
"In the beginning, there was heart-drum. With this vibration we give rhythm to the world. On this beat we Sing Life. We are the Rhythm People.
"When we first started the Teaching Artist Institute we had this idea that art was a universal tool for communication. It's a universal language. But after recognizing who I am as a Black Woman, living in this area of the Diaspora, I realized that we haven't really learned to use that art as a communication tool within our own community. How do we first use art? Charity starts at home. How do we communicate and use the art that naturally flows through us? We are different based on geographic location, phenotype, language, I mean every possible way that we can be different, we are, but that one commonality, that one thing that unites us, is the beat of that drum. The beat of the drum will always be the heartbeat of our community. And if we can use art and culture as a means of communicating across these differences, of connecting and uniting, and reminding us of our essence, then there's nothing that we can't accomplish. And the only campaign that we have, right now, in the Teaching Artist Institute, is the Rhythm People Campaign. And it's a part of what we're launching in Ghana.
"Jah Kente International has been an amazing influence on nurturing our vision. I'm reminded constantly by my TAI Elder Rufus T. Stevenson … 'You have been seduced by Afrika, and there is nothing that will satisfy that, other than connecting and continually reconnecting with your people across the face of the Earth.' And so, the Teaching Artist Institute is going to be my medium to do that. Helping artists to nurture and develop their projects, Art for Social Transformation, helping them to understand that it's the art of possibility and the art of innovation that is pillaring every sector of development. And you artists, you Cultural Evangelists, you are the face of the new leader in our community. Getting people excited about art, and teaching them to use that as their pedagogy, as the lens through which they see every other area of development. This is the Afrikan world view. And helping us to remember that is the job of the artist. I love Mr. Rufus because he reminds me of that, personally. … His very lifestyle is an example of what I want to be when I grow up. … We've been disconnected from what excellence really looks like, and we've lowered the standard. We do it subconsciously, believing that the standard can no longer be achieved. But I'm here today to tell you that it can be achieved and it's still among us, and we need to learn from that standard before it's no longer with us."
TAI ELDER RUFUS TIEFING STEVENSON, FOUNDER OF JAH KENTE INTERNATIONAL
"My family gave me the name Rufus Stevenson. When I got to Mali as a US State department diplomat, the Malians asked me, what was my name [and] what does [it] mean. The only answer I could give was that 'Stevenson' in essence means 'the son of Steven'. So the Malians gave me a proper name in the Bambara language, and it's Tiefing. Tiefing means 'Afrikan Man' or 'Black Man'. … My name is now Rufus Tiefing Stevenson as listed on my passport.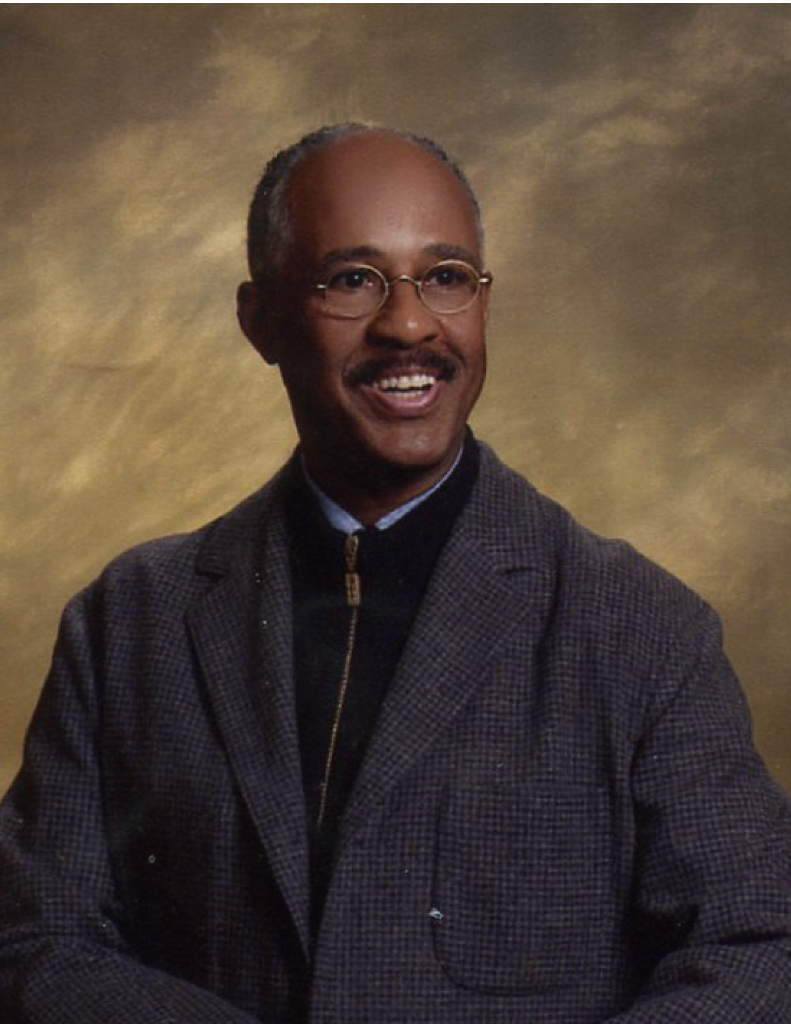 "First I want to say that I'm from a little, small town down the railroad tracks in the state of Georgia. I remember there were 13 in my family. I'm the ninth child, the seventh son. … The seventh boy is an old Southern folklore meaning, he's gonna be somebody. So I worked my way through high school and went to Morehouse. I was the first Morehouse College graduate to join the Peace Corps, and that was revolutionary because I had never been in an integrated situation until I joined the Peace Corps and went to West Afrika and all my roommates were from Harvard and Princeton. So I learned to 'ice-skate over the holes' in terms of the English language, but I got through all of that. …
"At Morehouse, my German teacher had told me 'Herr Stevenson, you will never learn the Deutsch.' So when I finished my Peace Corps training … I went to Germany for a whole year to learn how to speak German, to go back to Morehouse and show that German professor that I could speak. As a result, I spent a year in Germany at university at the same time Angela Davis was there. So I spent a whole year learning the German language, went back to Morehouse, had an hour and a half conversation with [that professor] and I never spoke it again. I switched then to French. So, as a result of all that, I came back to America.
"We have had a play going on in Washington called 'The Meeting' [between Dr. King and Malcolm X] by Jeff Stinson. High school actors. About the time Malcolm X died I was living in New York and I was going to the Audubon Ballroom every Sunday to see him. But the Sunday that he was killed, I met a Morehouse friend who was at Harvard and we spent the whole day at the Metropolitan Museum.
"After my time in New York I was drafted into the Service and I served in Viet Nam. After Viet Nam, I was a military policeman. … I got a Rockefeller Grant and went to Haverford College, in Pennsylvania, and Kalamazoo College in Michigan. I studied economics and political science for a year with my scholarship. Then I went to grad school at the School of Advanced International Studies at Johns Hopkins where my specialty was Afrika.
"I joined the State Department and my first post was in Madagascar as a political officer there. During that time there, I witnessed the first televised student revolution. After Madagascar I was stationed in Mali, West Afrika. Changed my life. It was my second time back into West Afrika and I knew something was going to happen to me spiritually when I went to West Afrika and there in West Afrika, in Mali, where I was stationed, there was the first televised drought, and I was in charge of the first televised drought, taking three American C-130 planes to areas in Mauritania, Niger and Chad. One day I came back from my travels delivering grains to these areas and I was wondering about what I was going to do with my life, because I had seen people dying during that drought season. And I decided that night that I was going to harness the moment because I found myself in a rich civilization, Mali, West Afrika, the center of these three great Afrikan empires, the Ghana Empire, the Mali Empire, and the Songhai Empire. And I decided that I was going to harness the moment and I was going to collect Afrikan art, with all that wisdom in Mali. And I would collect Afrikan art and textiles, and I would bring them back to America in order to raise the consciousness of my people.
"At that time, now I'm a Cultural Evangelist. But at the time when I harnessed the moment and brought all my Afrikan art back to America, there was no Smithsonian Afrikan Museum. I had no idea how I was going to do it, nor where it was going to lead. The spirit of the Ancestors and God Almighty has led my Afrikan effort, my love for Afrika, into the heart of the Black Community, which is the Black Sanctuary. And today, I have four of the largest Black Churches in Washington dressed for Black History Month and three of them I've been doing for 19 years. Not only pressing colorful handwoven Afrikan textiles throughout the whole sanctuary, but I dressed the Malian Bambara Chi Waras, 15 feet high, with grass skirts on the right and left of the Cross of Jesus.
CULTURAL EVANGELISM, THE ADINKRA AND THE "SEVEN VOICES OF AFRIKA"
"I am a Cultural Evangelist. And what I have to share with my people comes from two things: In Ghana, you have a group of ancient symbols representing philosophical [concepts]. They are called the Adinkra Symbols. In those Adinkra Symbols there are two I will share with you. The first one is called Gye Nyame. Gye Nyame means 'God is First'. The omnipotence and omnipresence of God. And the second one is called Sankofa. Sankofa is the only Adinkra Symbol that has two icons. The first one is the 'Valentine's Heart' icon that the Europeans took to represent Valentine's Day. The second Sankofa Symbol is the bird with the head turned around touching the back. It means 'Reach Back and Fetch It'. You can always go back and correct those mistakes you have made. Reach back and fetch that part of you that was taken from you during our enslavement in America. Reach back and fetch that part of you that you know nothing about. …
"In 2011 I met Kim when we both joined the excavation team of Tony Browder in Egypt, and Kim and I both spent time excavating an area in Luxor … between the Valley of the Kings and the Valley of the Queens. We worked there for the duration of our excavation season. But one night I left my room and walked up to the roof of our hostel that we lived in, and I looked across the road and I saw the two 60-feet-high colossi of Amenhotep III, [or] Memnon. And that night as I looked upon these two huge 60-feet granite statues, in the background was the Valley of the Kings and the Valley of the Queens. And it dawned on me that the Voice of this Black Land before Biblical times was Kemit [KMT], and I realized that the name Kemit was changed when the Greeks conquered, when Constantine conquered that Black Land in 323 and named it Egypt. And we know it now as Egypt. But that Black Land was Kemit. That was Voice Number One.
"The next day I went to Luxor and I bought a tapestry of a lotus flower, and that lotus flower represents the Voice. Egypt is divided into two sections, Upper Egypt and Lower Egypt. Lower Egypt is the papyrus, and Upper Egypt from Cairo all the way into Sudan, all the way into Black Afrika, is the Lotus Flower, and when I bought the lotus tapestry I had no idea that it had such significance to it.
"So I thought, 'I've got the First Voice which is Kemit. That was the Lotus Flower. So, well, what was the Voice of this Black Land during Jesus' time? And we know from the Bible that it was Ethiopia and I've been to Ethiopia many times so I have the Ethiopian textiles. So that was the Second Voice, Ethiopia.
"I said 'Well, what was the Voice after Jesus' time?' And I realized from my Afrikan studies that 2000 years went by, Afrika was completely divided up and colonized. And the very first country to become independent was Ghana in 1957. So as a result, I knew it was Kente Cloth. I had Kente Cloth. That was the Third Voice, Kente.
"I said then, 'What happened after 1957? What was the Voice of this Black Land?' And the Voice of this Black Land after 1957, I realized that Ghana, Nkrumah, Modibo Keita in Mali and Sekou Toure in Guinea got with Haile Selassie in Ethiopia and they created the Organization of African Unity, the OAU, so that when all of the Afrikan countries got independent, they could join in and be one voice for all of Afrika. So, I had now the Fourth Voice, which was the OAU, and I used the white cloth from Guinea to represent that Fourth Voice.
"Then I said, 'Well, what happened after the OAU?' And I realized that after the OAU came forth, in 2002, the OAU in South Afrika changed its name to the AU, the African Union. And I said 'Wow, what could I use to represent the AU?' And I thought about Kwanzaa. And I used the Red for the blood, the Black for the people and the Green for the land. So that was the Fifth Voice.
"I was wondering, 'What would the Sixth Voice be?' And the Sixth one — I realized that in 2012 [at the African Union Global Diaspora Conference in South Africa — Editor] the African Union recognized all Black people living outside of Afrika. In Europe, Asia, North America, South America, Caribbean, wherever Black people were outside of Afrika, they called that the Diaspora, and they recognized all of us and I said, 'Wow, the Diaspora. That is the Sixth Voice.' And that is recognized with a gold strip, which is the 'gold' that was stolen.
"And then I thought about it for weeks. What would be the Seventh One? And the Seventh One finally revealed to me that now that this Black Land of Afrika has come together in one government which is the African Union and the African Union has recognized all of her Children throughout the world, I said 'Wow, now we can, in the Spirit of Sankofa, we can all Reach Back now to Kemit and think about that ancient spirituality that's governed the lives of our Ancestors during the known Four Golden Ages. And we know that ancient spirituality that governed our people during the Golden Ages, those being the Golden Age of the Pyramids, the Golden Age of the Literature, etc., that that ancient spirituality was called Ma'at. M-A-A-T. And Ma'at consisted of 42 Commandments — Moses took ten of them — but I took Ma'at as representing Seven Principles. And those Seven Principles are Truth, Justice, Righteousness, Balance, Harmony, Order and Reciprocity. And I want you to know that these Seven Principles are embedded in our Afrikan Melinated Black and Brown Skin. These Seven Principles are there. We have disconnected ourselves as a result of our colonization, conquering and what not. It's already in our skin, and all we have to do is get to know what those Seven Principles are, reclaim them, reactivate them and come together as a people.
"And I feel very good to be able to share with you that Adinkra Symbol, Sankofa, Reach Back and Fetch It. And what must we do? We reach back and fetch that part of us that we know nothing about, that is those Seven Universal Principles that serve as the foundation for all known religions on Earth, whether you are Christian, Catholic, or whatever, Buddhism or what not. All religions, the foundation of all religions, are based on the Seven Principles that are embedded in our Black, Brown Melinated Afrikan Skins. And all we have to do is find a way to activate it and come together. I thank you very much."
SIS. KIM POOLE CLOSES
"Elder Rufus brings that authenticity every single time. Without fail. It's a gift; it's spiritual. You just feel it!
"I want to thank you for coming out to our first Ghana Send-off, for our two wonderful Teaching Artist Fellows here tonight that are going with us to Ghana to represent your community, to demonstrate to the world that there is greatness here in Baltimore, there is greatness in the DMV [DC-Maryland-Virginia], and we are not 'land-locked'.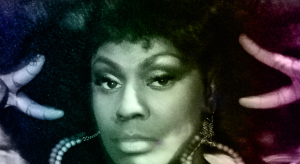 That we go across the Atlantic Ocean. That we will be in Cuba, like [the Honorable Vice President of the World African Diaspora Union, WADU, who also had come to support this event] Nana Farika in Jamaica, that we take our message with us, that we are leaders in our global cultural economy, and that we have something to exchange with them. We're in a position of power when we embrace our art and our culture. Black people in this area of the world especially, Blues people, you are the product of the strongest people to ever face this Earth, and when I say 'face' I'm talking about the forces that we deal with, when moving through our day. You're the product of that. You're the rose that grew from concrete. And let me tell you, you're beautiful. You are beautiful. And we see that, and Ghana will welcome you with akwaaba. And they will see that as well, on Friday. We will be going on Friday. Yes. I'm so excited!"
HOW TO SUPPORT THE TEACHING ARTIST INSTITUTE AND THE TAI TOUR TO GHANA
Although the TAI Tour to Ghana embarked on Friday, March 3, it's still not too late to support this important and noble effort. The GoFundMe Page for the TAI Tour to Ghana still needs as much support as you can provide. It will be open until March 13.