Saturday, February 24: Maryland Pan Afrikan Town Hall Meeting Sponsored by the Maryland Council of Elders
The first Maryland Pan-Afrikan Town Hall Meeting of 2018 will be sponsored and called by the newly-formed Maryland Council of Elders.  The event will take place on Saturday, February 24 from 3:00 PM to 6:00 PM at the historic Arch Social Club in the Penn-North neighborhood ion Baltimore, Maryland.  For more details, click here.
Teaching Artist Institute (TAI) Announces TAI Tour Ghana 2018
The Teaching Artist Institute (TAI), under the visionary leadership of Founding Fellow Sis. Kim Poole, is announcing its 2018 TAI Tour to Ghana, slated for early March.  The trip will include discussion groups, workshops and cultural performances in celebration of Ghana's independence and Ghana Music Week.  If you are interested in accompanying this Tour, be sure to contact the Teaching Artist Institute now (details are in the PDF documents attached to this article), as space will be limited.  For more details about this groundbreaking travel opportunity, click here.
Pan Africanist Congress of Azania Sends Condolences to the Family of New Ancestor Hugh Masekela (April 4, 1939 – January 23, 2018)
We contentedly "Grazed in the Grass" to his melodic trumpet.  His pulsing beat urged us to "Don't Go Lose It Baby" in the 1980s as we hurtled through the "World of Time (Ashiko)".  We hopefully awaited the arrival of "The Rainmaker (Motla le Pula)".  He and world-renowned South African House Music DJ Nkosinathi Ndamalu (otherwise known as DJ Black Coffee) released a collaboration several years ago to remind the Children of Afrika to "wake up Afrika, the time has come" because "We Are One".  And he urged lovers of freedom in his home, South Africa, to "Bring Him Back Home" during the campaign to end apartheid and free Nelson Mandela.
His trumpet and flugelhorn now stilled after 78 years and a valiant battle with cancer, Hugh Masekela is now an Honored Ancestor,
The Pan African Congress (PAC) of Azania has released a statement of condolence to the Masekela family, which can be read here.  His Web site, http://hughmasekela.co.za/, has been updated with the sad announcement of his passing.  We anticipate a  number of tributes to the Afrikan music and jazz giant from lovers of music and liberty in the days and weeks to come.
Aging People in Prison Human Rights Campaign Summary Report on 2nd UN Meeting for People of African Descent
Geneva, Switzerland November 2017
The Aging People in Prison Human Rights Campaign (APP-HRC), formerly known as Release Aging People in Prison (RAPP), attended the Regional Meeting for People of African Descent sponsored by the United Nations High Commission on Human Rights (UNHCHR) and the Working Group of Experts for People of African Descent (WGEPAD) in Geneva, Switzerland on November 23-24, 2017.  There, Sis. Tomiko Shine of APP-HRC gave testimony on the plight of people of Afrikan descent who are being held in US prisons long into their old age, and the pattern of intergenerational trauma that has resulted from this as well as from systematic abuse of Afrikan people inside and outside of prison by criminal justice and law enforcement authorities.  This report is the written documentation of much of APP-HRC's research and work.  APP-HRC will be making public presentations in support of their work during 2018, and we will support and cover those presentations when we can.  Their report on the UNHCHR meeting in Geneva, Switzerland can be read here.
The Teaching Artist Institute Announces its TAI Fellowship for 2018
The Teaching Artist Institute (TAI) is announcing its TAI Fellowship Program for 2018.
TAI was founded in December 2015 by Baltimore, Maryland-area Soul-Fusion Teaching Artist Sis. Kim Poole.  TAI has grown into an international force in support of Art for Social Transformation due to her visionary leadership.
The TAI Fellowship's PDF document describes the TAI Fellowship, including an Introduction and Overview, the Vision Statement ("Art as a way of life"), the Mission Statement, the Goals of the TAI Fellowship, the Benefits of participation and the Definition of a Teaching Artist.
Brief introductions to several current TAI Fellows and their work in Cuba, Ghana, Nigeria and Cleveland Ohio, Los Angeles California, and Baltimore Maryland are included.
When the document finishes loading, navigate through the pages by positioning the cursor on the document and clicking the arrow buttons in the lower left corner.
Become a TAI Fellow, develop your art and travel the world!
For the TAI Fellowship PDF document, click here.

On Resolutions and Moving from "Whereas" to "Now Therefore"
We love to make "New Year's Resolutions".  Actually, according to the Ancient Afrikan Calendar, we are in the middle of the year 6258 (I may be a few years off).  Usually these resolutions have little effect, as we break them soon after making them.  Meanwhile, we remain stuck in a cycle of complaint and helplessness, staying in what, in Congressional and UN Resolutions, is known as the "whereas" stage, in which the current problem is detailed.  But in those types of Resolutions, there is always a "now therefore", or, what are we going to do about the issue we face?  If we are to succeed in our struggle as a people, we must transcend the "whereas" stage and move to the "now therefore" and actually start to do something about our situation.  It all starts with making the decision that we will organize as a people.  For more, click here.

The Chair of the African Union Commission Meets the Diaspora
The African Union Mission in Georgetown, Northwest Washington, DC, was the location for a special event, the meeting of the Chair of the African Union Commission, His Excellency Moussa Faki Mahamat, with members of the African Diaspora on Wednesday, November 15, 2017. The event was emceed by Mr. Melvin Foote, president of the Constituency For Africa (CFA), a Washington, DC-based lobbying organization that seeks to influence United States policy in favor of constructive objectives for the United States as well as the Continent and people of Africa.  Present at the event were African Union Ambassador to the United States Ms. Arikana Chiombori-Quao, several local government officials whose mission includes outreach to African Immigrant Communities, and an audience that included African Immigrant as well as Afrikan-American attendees.  At the end of the session, an impassioned and critical statement was given by Sis. Iman Hameen, a former Facilitator for the New York chapter of the Sixth Region Diaspora Caucus (SRDC).  For more, click here.
JUSTICE INITIATIVE: Should America Be Deporting Domestic Violent White Males?
EDITOR'S NOTE: This commentary was written by Heather Gray, a white woman from the Atlanta area an the founder of Justice Initiative, on October 3, in the aftermath of the massacre at the country music festival in Las Vegas by 64-year-old whacked-out millionaire-turned-mass-murderer Stephen Paddock, who as of this writing has killed 59 people and wounded over 500 more before taking his own life in a hotel room on the 32nd floor of the Mandalay Bay hotel as police closed in on him.  As she notes below, she received a number of comments in response to her commentary.  In case you missed it, we are sharing it with you at this time.  Ms. Gray has allowed us to reprint several of her commentaries, as they often pertain to issues of racial justice and the struggle against white supremacy.  For her full commentary, click here.
Puerto Rico and The Caribbean Suffer, US Agencies Struggle, Trump Stumbles
As the US military and FEMA struggle to provide aid to the devastated island of Puerto Rico and US president Donald J. Trump releases one unhinged tweet after another, the people of Puerto Rico continue to suffer.  San Juan Mayor Carmen Yulin Cruz went on national television "begging" anyone with the capability to help "keep us from dying."  Meanwhile, several celebrities, most notably singer-musicians Daddy Yankee, Jennifer Lopez and Pitbull, made major gestures of support to the suffering populace.  For more, click here.
Our Frustrating, Maddening Obsession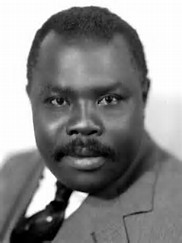 "The thing to do is to get organized.  Stay separated and you will be exploited, you will be robbed, you will be killed.  Get organized and you compel the world to respect you."
–The Honorable Marcus Mosiah Garvey
The above statement is, in my opinion, perhaps the most profound comment I've ever heard or read from The Honorable Marcus Mosiah Garvey, founder of the Universal Negro Improvement Association and African Communities League (UNIA-ACL).  More profound than "Africa for the Africans, those at home and those abroad."  More relevant than "Up you mighty race; you can accomplish what you will."  This is because while those other two statements are iconic in their own way, they are pronouncements that were designed to inspire, whereas that first quote is an analysis and a prescription for people of Afrikan Descent to free ourselves from bondage and oppression, and, unfortunately, one which too many of us continue to ignore.  Too often, we rail against the discriminations and deprivations to which Afrikan people are subjected, but we also repeat, ad nauseam, the very behaviors of disunity that ensure that those discriminations and deprivations will continue without any comprehensive and effective challenge from us.  Why are we so often obsessed with the empty behavior of complaint coupled with rejection of any organized and cooperative plan to put our collective misery to an end?  For the entire commentary (or is it a rant?  You be the judge), click here.
JUSTICE INITIATIVE on "The First 9-11"


This week marked the 44th anniversary of what is called, by people who know history, "The Other 9-11" or "The First 9-11", as Heather Gray of the Atlanta-based organization Justice Initiative calls the violent overthrow of the Salvador Allende government in Chile and the assassination of Allende by US-backed paramilitaries led by General Augusto Pinochet.  Below, we share two of Justice Initiative's releases, which include commentaries by Heather Gray, Noam Chomsky and Naomi Klein.  For even more background, we invite you to check out an archived issue of our newsletter, KUUMBAReport, "The 'Other' 9-11".  For the Justice Initiative article and the included commentaries by Heather Gray, Noam Chomsky and Naomi Klein, click here.
The people of the coastal areas of Texas and Louisiana have not even recovered yet from Hurricane Harvey, and now Hurricane Irma comes barreling through the Caribbean.  It has already killed over 25 people at this writing and has destroyed the islands of Antigua and Barbuda.  Puerto Rico and other island states and nations could be without power for months.  The US Virgin Islands, the Bahamas and Cuba are feeling the brunt of Irma's power as the people of Florida scramble to evacuate and wonder which coast Irma will strike hardest.  And now, Hurricane Jose has become the third Category 4 hurricane in a row to threaten the Caribbean, the Gulf and the United States.
Many of the hardest-hit populations in these areas continue to be people of Afrikan descent.  When will our many organizations start to come together so a credible response can be mounted when disasters like this strike our community?
TAI Tour Goes to Los Angeles on September 15-16
We take a look at the White Supremacists' march in Charlottesville, Virginia, and the response of US president Donald J. Trump, essentially making excuses for the racists who terrorized anti-fascist counter-protesters and committed acts of mayhem that killed 32 year old Heather Heyer.  For more on this story, click here.
A Brief Tribute to New Ancestor B. F. Bankie
The Pan-Afrikan Community lost one of its foremost thinkers and builders when Baba Bankie Forster Bankie joined the Ancestors.  According to reports, he was found by his wife on August 1.  He apparently had passed on several days prior to being found.
Not having known Elder Bankie personally, it was necessary for us to search through email communications for tributes to his work, and to find writings of his that give some small sample of the intellectual force he gave to his Pan-Afrikan activism work.  We include a tribute by Job Shipululo Amupanda, and one of Baba Bankie's writings from a conference where he made a presentation in December 2013.  For the full article, click here.
NYC Jericho and Universal Zulu Nation on Surviving Encounters with the Police
This article is both an announcement for a free public event (Wednesday, July 5, 2017 in New York City) and also a public service from the New York Jericho Movement and the Universal Zulu Nation.  For this reason, the event is announced in our Community Calendar as well as in the blog section, and this post will remain after the event because of the advice given on surviving encounters with police.  The suggestions are designed to ensure that your rights in such an encounter are legally asserted while also minimizing the likelihood of being harmed by police officers.  It is unfortunate, given the recent incidents of police brutality and the subsequent refusal, even by "juries of our peers", to convict officers who were clearly incriminated by visual evidence, that this kind of advice is necessary, but it is an important service to help ensure that all of us, in the event of such an encounter, will at least survive long enough to answer charges of criminality as well as post claims of police misconduct or abuse in court.  For the Event Calendar, click here; for the article with suggestions on surviving an encounter with police, click here.
One thing that can be said for the presidency of Donald J. Trump: it has not been boring.  The 45th president's tendency to exaggerate (crowd size at his inauguration), to spread obvious falsehoods (millions of illegal voters who all voted for Clinton), to make promises he apparently has no intention of keeping (releasing tax returns, passing a health care bill that will provide health care for all, bringing back record numbers of jobs, especially in the coal and steel industries), and just general creepiness (the rough handshakes, the holding hands–no, not holding hands–with his wife Melania, the excessive personal phone calls and meetings with legal and law enforcement officials) and so many other unfortunate and even outrageous behaviors, combined with the "failed" Travel Ban, Tax Cut Bill and Health Don't-Care Act, would be enough in the opinion of many of our associates to merit impeachment on the basis of incompetence and mendacity alone.  But this president seems intent on adding historical, political and legal precedent as another log on the fire that may consume his presidency.  He seems to have "checked" practically every "box" on the Classic Nixonian Watergate Scandal Checklist.
We have attempted to cover as many of the similarities between the Trump presidency and the ultimate demise of the Nixon administration as we could.  More than likely, there will be more before long that we may not have considered, perhaps a re-enactment of some of the scenes detailed in The Final Days, which was written to chronicle the end of Nixon.
For those of you who get off on political theater, hang onto your hats.  Take the ride with us here.
Increasing Corporate Control of Afrikan Farmers
The Mondiaal Nieuws article "Tanzanian farmers are facing heavy prison sentences if they continue their traditional seed exchange" (http://www.mo.be/en/analysis/tanzanian-farmers-are-facing-heavy-prison-sentences-if-they-continue-their-traditional-seed, December 7, 2016) certainly seems to raise a number of alarms about the next wave of efforts to subject Afrika's food supply to corporate control.  Allowing private investment for the purpose of helping stop hunger and famine is one thing, but the purveyors ("pushers") of these efforts almost never let us see all the strings they've attached.  For more on that Guardian article, some of the attachments it refers to, and some historical and international context on this issue, click here, and also check out our Free the Land page.
100 Dramas for 100 Days of Trump
By the end of January 2017, newly-sworn-in US President Donald Trump had already hit the ground running in an attempt to establish a "productive" first 100 days.  While his presidency may not have produced as many new laws or policy improvements as his supporters expected (or even think it did), it certainly has not failed to deliver in drama.  To commemorate the first 100 days of the Trump administration, we've compiled a list of 100 points of interest and controversy (We thought of calling them "Fun Facts", but there's actually little fun in any of this) that have become the focus of the media and Trump's opposition in the first 100 days.  For the full list, click here.
On Friday, April 14, a special meeting was held at the Union Mill in West Baltimore.  It was called and sponsored by the Afrikan Heritage Walk-A-Thon and its Founder, Mama Victory Swift, in memory of her son.  The meeting was called to bring together families who had lost loved ones to the violence that continues to plague our communities.  For more on the meeting and the outreach effort it has inspired, click here.

Afrikans are Part of Poverty-Induced Nations: A Commentary from Self-Help News
Self-Help News publishes regular commentary on issues of concern to the Pan-Afrikan Community.  We are pleased to be able to share occasional articles and analyses from Self-Help News.  Their commentaries, as well as those of Zulu Publications and others, can be found at their website, http://www.ubol.com/index_files/Page2319.htm.  This particular article echoes what Dr. Walter Rodney had said so long ago in his book How Europe Underdeveloped Africa.  For the full commentary, click here.
A Compelling Case for Cooperatives
This is a question-and-answer taken from an interview with Dr. Ray Marshall by Heather Gray of the Justice Initiative for the Federation/LAF's 25th Anniversary in 1992. Dr. Marshall served as the Secretary of Labor under President Jimmy Carter. As an economist Dr. Marshall shares his insight on the economic needs of individuals, communities and nations and, importantly, the different levels of democracy and how cooperatives can serve to strengthen democratic institutions.  For the question and Dr. Marshall's explanation of the importance of cooperatives, click here.
The Rhythm People Coalition and the Teaching Artist Institute Announce the NOMAD Tour 2017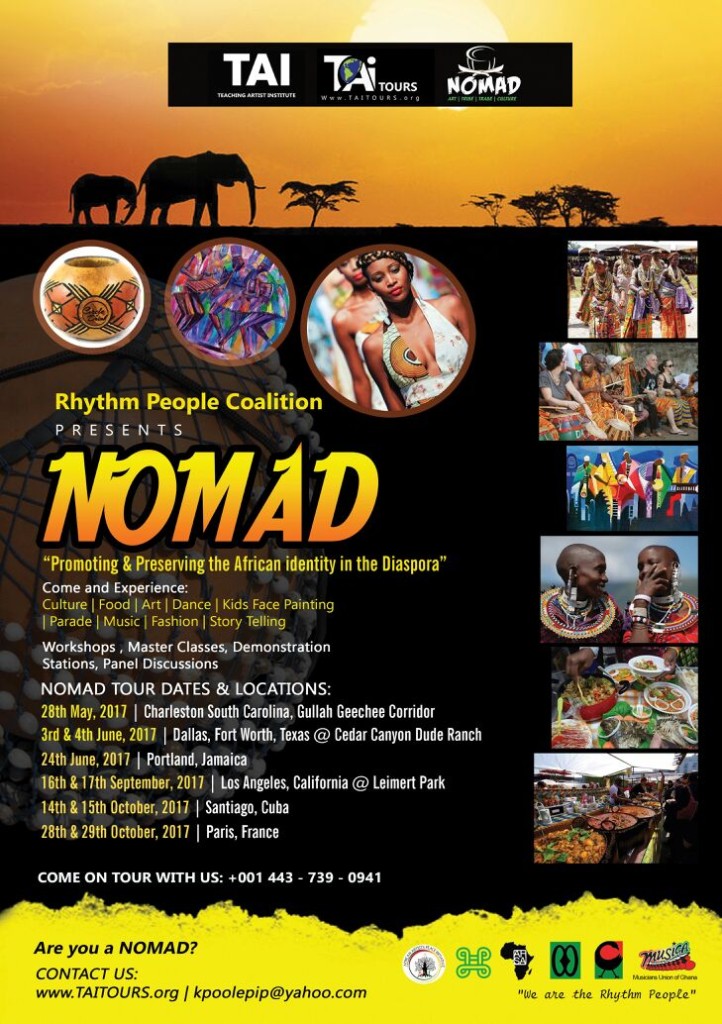 The Rhythm People Coalition of the Teaching Artist Institute (TAI) is announcing its 2017 NOMAD Tour, in which the work of the Rhythm People Coalition and TAI to promote Art for Social Transformation is being spread throughout the Pan-Afrikan Diaspora.  The Tour includes dates in Charleston, South Carolina (May 28, 2017), Dallas-Fort Worth, Texas (June 3-4, 2017), Portland, Jamaica (June 24, 2017), Los Angeles, California at Leimert Park (September 16-17, 2017), Santiago, Cuba (October 14-15, 2017) and Paris, France (October 28-29, 2017), as well as a visit to the Sixth Region Diaspora Caucus National Summit in Nashville, Tennessee on October 20-21, 2017.
Just who are the Rhythm People?  Let the following Infograph, designed by TAI artists, explain the concept: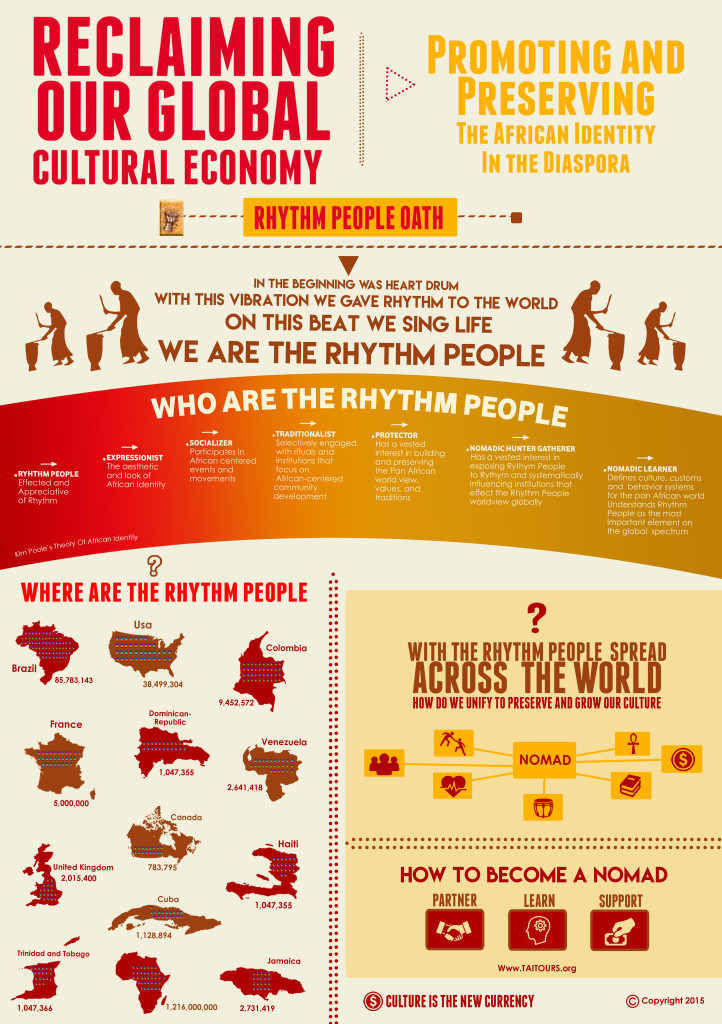 For more information or to inquire about joining the Teaching Artist Institute and the Rhythm People Coalition, contact them by phone or text at 443-739-0941, by email at kpoolepip@yahoo.com, or visit the TAI Tours Website, www.taitours.org.
For other recent articles, visit our Blog Page.